Dear #PhotoADayMay,
You had me at
Instagram
.
My bloggy friend
Kim@Amommaly
first blogged about about the photo prompts over at
Fat Mum Slim
. Then I informed her on the very first day that Instagram was available on the Android market. We both got an account and the rest is history.
#PhotoADay is the photo a day challenge hosted by Fat Mum Slim, an Australian blogger. Anyone who wants to participate just uses the hashtag to mark the prompt-related pictures on Instagram, Flickr, Facebook, Twitter, Pinterest, or personal blogs. Then anyone or friends can see different photographic interpretations of each prompt. The best part is when friends participate and you can see each other's photos. Instagram conveniently posts pictures onto Facebook and Twitter, and it is easy to add a little blurb about the pictures.
The #photoadayMay prompts were:
http://www.fatmumslim.com.au/2012/05/photo-day-may-its-time.html
And my corresponding photos are in the gridded pictures above, going from left to right, top to bottom.
Here are some of my favorite ones; I'll include my blurbs that you cannot see here.
Day 4, fun!: Making Words with our new magnetic letters set. (We've been making words and leaving messages.)
Day 9, something I do everyday: Coffee, my Daily Dose of Happy. (In fact, coffee can probably be used for more than half of this list.)
Day 10, a favorite word: 'Dear'. (A picture that inspired the new banner for this blog!)
Day 11, kitchen: my cookie cutters. (I got a few comments about me being organized; that's called 'deliberate placement' and not 'spontaneous photography'.)
Day 12, something that makes me happy: watching my kids 'go!' on wheels. (But running behind them and trying to snap a picture was not so easy.)
Day 13, mum: my niece's new sibling is in there! (Wherein I announce my new status as Auntie again.)
Day 20, something I can't live without: that thing on my lap. (That was Dear Husband's immediately suggestion when I told him the prompt that day; I hate it when he's right.)
Day 21, where I stand: in the SHADE, of course!
Day 23, technology: thumb at work (wherein I can turn on the ceiling fan without having to move one inch from my bed with 'that thing on my lap' still in its place; win-win.)
Day 30, my personality: "sweet and sour" says The Hubs (that's short for 'Hubster'; I had to explain that to my own DH, who wondered why he was plural.)
The
only
things I do
every single day
are: shower, brush my teeth, and feed my kids. That I followed a chart and did something
else
every single day was kind of a miracle. But everyday, I actually
looked forward
to completing each prompt. I tried to think of creative ways to photograph the prompt. Some were more of a challenge than others, and some prompts took about 20 takes to get a satisfactory final product.
I only had a few friends who did #photoadayMay with me. If you are interested, hop on board and share your pictures for the June photo challenge! It is a great deal more fun when you can see friends' photos, too! Kim (@Amommaly on Instagram) takes amazing photos and I adore her photo collection. Won't you join us?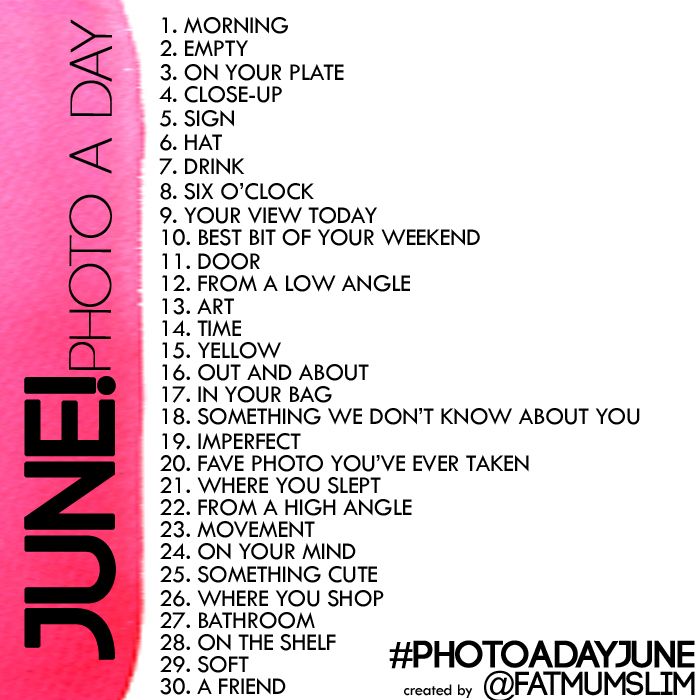 http://www.fatmumslim.com.au/2012/06/photoa-day-june-its-time.html
So, #photoadayMay, it's been quite a ride. I'm hooked. I think I'm in for another month for Fat Mum Slim's photo challenge. There is also another photo prompt challenge at
Chookooloonks
that I've got my eyes on. It starts on
June 4
with the hashtag #instacamp. We'll see how that goes. Alas, goodbye, #photoadayMay, and Hello! #photoadayJune!
Happy Snapping!
Sincerely,
Me
P.S. As these are prompt-related posts, I will place all subsequent photo challenge posts over a at
Promptly I Write
, which is only fair. So hop on over if you are not on Instagram and you'd like to see my
#photoadayMay
photos and blurbs in detail and my #photoadayJune pics next month!